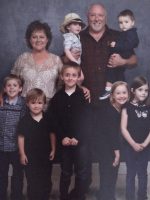 I am Tim McLaughlin. I live in Mercer, Pa with my bride Cecilia and our pug MuShu. We are the parents of 4 children and grandparents to 7 boys and 2 girls! I love spending time with my family, the more the merrier. I am most relaxed on two wheels enjoying my motorcycle when the weather permits. I started attending NAC in January of 2018 and immediately felt I was part of a family. I have served in various capacities in my 44 year journey with the Lord that I call footsteps with the Father. I am deeply honored to be able to serve the Lord and my church family in any way that I can. I believe that God has given each of us gifts that we are to use for His glory and furthering His kingdom by serving each other. Every one of us has a role to fulfill. My scripture verse is;
*Philippians 3:10-14
"that I may know Him and the power of His resurrection and the fellowship of His sufferings, being conformed to His death; in order that I may attain to the resurrection from the dead.
Not that I have already obtained it or have already become perfect, but I press on so that I may lay hold of that for which also I was laid hold of by Christ Jesus. Brethren, I do not regard myself as having laid hold of it yet; but one thing I do: forgetting what lies behind and reaching forward to what lies ahead, I press on toward the goal for the prize of the upward call of God in Christ Jesus."
Laying hold of why He laid hold of me is my life's goal.