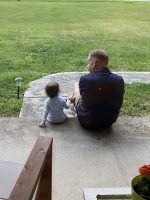 First, I would like to thank you for taking the time to read through this information. Joyce and I have been in ministry for 30 plus years. We have served in Maine, New York, New Jersey and in Pennsylvania. And now we have come to N.A.C.
We are so excited to be here, and living in this community. My hope would be that I could meet you in person at one of our services, but if that's not possible, please look on Facebook and join us there. We would truly enjoy getting to know you. 
Currently we have a great nursery and Children's church program on Sunday mornings. We also offer family worship each week, meaning if you want to keep your kids with you that is great also. During the week have a Wednesday evening program for children. We also have bible studies and prayer times for adults if that's what you are looking for.
If you're looking for biblical, understandable and applicable messages and worship I would encourage you to come and see. As we grow and move forward our goal is to add more programing in every area of ministry. In the meantime, if you're looking for a community to be apart of, a place to belong even before you believe, we would be happy to walk with you on your journey towards Christ. I believe the church is to be a place where we belong, believe and become the people of God. Our Goal is to Love God and Love Others and Share the Good news of Christ Jesus in our homes, community and around the World. We hope you would come and join us in this mission.